Seuran kuljettajia ajaa useissa eri rata-autoilun sarjoissa.
Formula1
Kimi Räikkönen
Biography
Retired 2021 from F1
He's the world-famous racing driver who just wants to be left alone.
Raikkonen has a cult status in F1 like no other driver of his generation, but if you ask him why he just shrugs.
Maybe it's because of the rugged, raw talent that inspired Sauber to give him his debut in 2001 – and re-sign him for 2019. Or the fast and fearless racing that led to memorable McLaren wins. Or the never-say-die attitude that clinched the 2007 world title for Ferrari by a single point. Or maybe it's because this is the 'Iceman' who jumped straight into a Jacuzzi on his yacht after retiring in Monaco and who enjoyed an ice cream when a soggy Malaysian GP was red-flagged but still live.
Raikkonen literally does his talking on track. Out of the car, the Finn is famously taciturn. Although those who know him well say privately he is an amusing bon viveur, as well as a devoted family man.
Meanwhile, his legions of loyal fans have to rely on revelations in his radio transmissions. And maybe Raikkonen himself best summed up the enigma of the Iceman when he said on the airwaves: "Leave me alone, I know what I'm doing."
GT3
Legends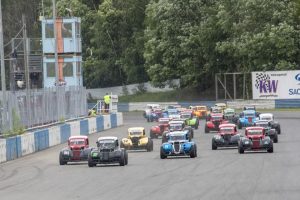 Sarjassa kaudella 2022 ajavat Marko Kilpiä ja Jari Oinonen
Sarjasta lisää https://www.legendscars.fi/
Historic
Historic sarjassa Formula 3 luokassa ajaa Mico Helkilinna
Historic Race Finland sarjasta https://www.historicrace.fi/